! news from maldives island angsana maldives ihuru welcomes coral scientist to the maldives marine lab maldives – angsana resort & spa maldives ihuru and banyan tree maldives vabbinfaru maldives, maldives news, maldives information, maldives foto, maldives video, coral, reef> <! angsana maldives ihuru welcomes coral scientist to the maldives marine lab maldives – angsana resort & spa maldives ihuru and banyan tree maldives vabbinfaru, which together operates and manages the research and education facility, banyan tree maldives marine lab, vabbinfaru, welcomes the return of australian marine scientist, professor peter harrison during his second stint at the lab in march 2008, prof harrison will be working closely with the lab's renowned director of conservation, mr. abdul azeez abdul hakeem, in training the marine lab associates, interacting with resort guests, giving presentations to the ministry of fisheries, and setting up long term programmes to collect raw data for future scientific research purposes marine recovery in the maldives professor harrison is one of the many leading scientists invited to the maldives marine lab in its efforts to further understand and safeguard the diversity of the maldivian reefs and ocean following the maldives mass coral bleaching incident in 1998, angsana maldives ihuru has been a pioneer of mineral accretion technology as well as planting coral gardens using a variety of man-made materials guests are invited to take part in the remediation of small natural reefs in the lagoon, with the intention to relocate corals from areas where it is at risk of damage or where coral colonies are already broken located in the south nilandhe atoll, partner facility, banyan tree maldives marine lab, velavaru began operations in 2007, and has recently installed a new goshi coral bed in the lagoon next to the previously installed one. goshi is an iron bar structure with the shape of a volcano, measuring 4m tall and 4m wide. currently the lab maintains five cement gardens and four iron bar structures including the two goshis monthly reef and lagoon clean-ups, supported by both marine labs, are scheduled to involve guests and associates in the delicate and important task of preserving the marine environment and keeping it free of any foreign debris brought in by the currents. in addition, regular talks and marine conservation presentations are held weekly to introduce guests in a lively and immediate manner to the origins and types of indian ocean corals and fishes> <! findings on 24 march 2008, the research team from the banyan tree maldives marine lab, vabbinfaru led by professor peter harrison from southern cross university, australia, saw some spectacular coral spawning on the reefs around banyan tree maldives vabbinfaru and angsana ihuru resorts. more than 30 colonies of nine different species of corals spawned between 8 and 11 pm including branching corals, brain corals, vase corals and massive corals coral spawning is critically important to the survival and recovery of coral reefs and will produce new coral larvae that will settle on the banyan tree reefs and allow the coral communities to remain healthy in the future professor harrison said professor harrison a patron to the banyan tree maldives marine lab since early 2007, prof harrison is a leading marine scientist from at the southern cross university, lismore, new south wales, australia. he was also one of the first discoverers of coral spawning at the great barrier reef in queensland. during his first visit to banyan tree maldives marine lab, vabbinfaru, in april 2007, prof harrison conducted coral spawning and reef monitoring research, which he intends to use in presenting scientific papers in upcoming international coral reef meetings. furthermore, prof harrison is exploring new methods for effectively promoting coral regrowth and recovery from near catastrophic events angsana maldives ihuru welcomes coral scientist to the maldives marine lab maldives – angsana resort & spa maldives ihuru and banyan tree maldives vabbinfaru> <! male nord, asdu, bandos, banyan, baros, boduhithi, eriyadu, farukolhufushi (club med), full moon, giravaru, helengeli, hudhuveli, ihuru, kanifinolhu, kudahithi, kuda huraa, kurumba, lohifushi, mahureva, makunudu, meeru, nakatchafushi, paradise island, reethi rah, summer island, taj coral reef, tari village, dhonveli, thulhagiri male sud, biyadhoo, bodu huraa, bolifushi, cocoa, dhigufinolhu, embudhu, fihaalhohi, fun island, kandooma, laguna, olhuveli, palm tree, rannalhi, rihiveli, taj, vaadhoo, villivaru, ari ari beach, angaga, athuruga, athala, dhidhoo finolhu, diffushi, ellaidhoo, fesdu, gangehi, halaveli, holiday, kuda rah, lily, maafushivaru, maayaafushi, machchafushi, madoogali, mirihi, moofushi, nika, rangali finolhu, ranveli, sun island, thudufushi, velidhu, vakarufalhi, vilamendhoo, felidhoo, alimatha, dhiggiri, baa, coco palm, kihaadhuffaru, kihaad, reethi, royal, soneva, raa, meedhupparu, rasdhoo, kuramathi, veligandu, lhaviyani, kanuhura, komandoo, kuredhoo, palm beach, nilandhoo, filitheyo, vilu reef, velavaru> <! news from maldives island angsana maldives ihuru welcomes coral scientist to the maldives marine lab maldives – angsana resort & spa maldives ihuru and banyan tree maldives vabbinfaru maldives, maldives news, maldives information, maldives foto, maldives video, coral, reef> <! angsana maldives ihuru welcomes coral scientist to the maldives marine lab maldives – angsana resort & spa maldives ihuru and banyan tree maldives vabbinfaru, which together operates and manages the research and education facility, banyan tree maldives marine lab, vabbinfaru, welcomes the return of australian marine scientist, professor peter harrison during his second stint at the lab in march 2008, prof harrison will be working closely with the lab's renowned director of conservation, mr. abdul azeez abdul hakeem, in training the marine lab associates, interacting with resort guests, giving presentations to the ministry of fisheries, and setting up long term programmes to collect raw data for future scientific research purposes marine recovery in the maldives professor harrison is one of the many leading scientists invited to the maldives marine lab in its efforts to further understand and safeguard the diversity of the maldivian reefs and ocean following the maldives mass coral bleaching incident in 1998, angsana maldives ihuru has been a pioneer of mineral accretion technology as well as planting coral gardens using a variety of man-made materials guests are invited to take part in the remediation of small natural reefs in the lagoon, with the intention to relocate corals from areas where it is at risk of damage or where coral colonies are already broken located in the south nilandhe atoll, partner facility, banyan tree maldives marine lab, velavaru began operations in 2007, and has recently installed a new goshi coral bed in the lagoon next to the previously installed one. goshi is an iron bar structure with the shape of a volcano, measuring 4m tall and 4m wide. currently the lab maintains five cement gardens and four iron bar structures including the two goshis monthly reef and lagoon clean-ups, supported by both marine labs, are scheduled to involve guests and associates in the delicate and important task of preserving the marine environment and keeping it free of any foreign debris brought in by the currents. in addition, regular talks and marine conservation presentations are held weekly to introduce guests in a lively and immediate manner to the origins and types of indian ocean corals and fishes> <! findings on 24 march 2008, the research team from the banyan tree maldives marine lab, vabbinfaru led by professor peter harrison from southern cross university, australia, saw some spectacular coral spawning on the reefs around banyan tree maldives vabbinfaru and angsana ihuru resorts. more than 30 colonies of nine different species of corals spawned between 8 and 11 pm including branching corals, brain corals, vase corals and massive corals coral spawning is critically important to the survival and recovery of coral reefs and will produce new coral larvae that will settle on the banyan tree reefs and allow the coral communities to remain healthy in the future professor harrison said professor harrison a patron to the banyan tree maldives marine lab since early 2007, prof harrison is a leading marine scientist from at the southern cross university, lismore, new south wales, australia. he was also one of the first discoverers of coral spawning at the great barrier reef in queensland. during his first visit to banyan tree maldives marine lab, vabbinfaru, in april 2007, prof harrison conducted coral spawning and reef monitoring research, which he intends to use in presenting scientific papers in upcoming international coral reef meetings. furthermore, prof harrison is exploring new methods for effectively promoting coral regrowth and recovery from near catastrophic events angsana maldives ihuru welcomes coral scientist to the maldives marine lab maldives – angsana resort & spa maldives ihuru and banyan tree maldives vabbinfaru> <! male nord, asdu, bandos, banyan, baros, boduhithi, eriyadu, farukolhufushi (club med), full moon, giravaru, helengeli, hudhuveli, ihuru, kanifinolhu, kudahithi, kuda huraa, kurumba, lohifushi, mahureva, makunudu, meeru, nakatchafushi, paradise island, reethi rah, summer island, taj coral reef, tari village, dhonveli, thulhagiri male sud, biyadhoo, bodu huraa, bolifushi, cocoa, dhigufinolhu, embudhu, fihaalhohi, fun island, kandooma, laguna, olhuveli, palm tree, rannalhi, rihiveli, taj, vaadhoo, villivaru, ari ari beach, angaga, athuruga, athala, dhidhoo finolhu, diffushi, ellaidhoo, fesdu, gangehi, halaveli, holiday, kuda rah, lily, maafushivaru, maayaafushi, machchafushi, madoogali, mirihi, moofushi, nika, rangali finolhu, ranveli, sun island, thudufushi, velidhu, vakarufalhi, vilamendhoo, felidhoo, alimatha, dhiggiri, baa, coco palm, kihaadhuffaru, kihaad, reethi, royal, soneva, raa, meedhupparu, rasdhoo, kuramathi, veligandu, lhaviyani, kanuhura, komandoo, kuredhoo, palm beach, nilandhoo, filitheyo, vilu reef, velavaru>
The news of www.tuttomaldive.it
ANGSANA MALDIVES IHURU WELCOMES CORAL SCIENTIST TO THE MALDIVES MARINE LAB
ANGSANA MALDIVES IHURU WELCOMES CORAL SCIENTIST TO THE MALDIVES MARINE LAB.
The news of www.tuttomaldive.it from Maldives
ANGSANA MALDIVES IHURU WELCOMES CORAL SCIENTIST TO THE MALDIVES MARINE LAB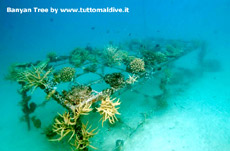 Maldives – Angsana Resort & Spa Maldives Ihuru and Banyan Tree Maldives Vabbinfaru, which together operates and manages the research and education facility, Banyan Tree Maldives Marine Lab, Vabbinfaru, welcomes the return of Australian marine scientist, Professor Peter Harrison.

During his second stint at the Lab in March 2008, Prof Harrison will be working closely with the Lab's renowned Director of Conservation, Mr. Abdul Azeez Abdul Hakeem, in training the Marine Lab associates, interacting with resort guests, giving presentations to the Ministry of Fisheries, and setting up long term programmes to collect raw data for future scientific research purposes.


Marine Recovery in the Maldives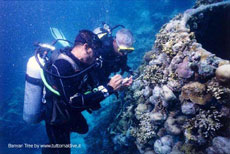 Professor Harrison is one of the many leading scientists invited to the Maldives Marine Lab in its efforts to further understand and safeguard the diversity of the Maldivian reefs and ocean.

Following the Maldives mass coral bleaching incident in 1998, Angsana Maldives Ihuru has been a pioneer of mineral accretion technology as well as planting coral gardens using a variety of man-made materials.

Guests are invited to take part in the remediation of small natural reefs in the lagoon, with the intention to relocate corals from areas where it is at risk of damage or where coral colonies are already broken.


Velavaru
Located in the South Nilandhe Atoll, partner facility, Banyan Tree Maldives Marine Lab, Velavaru began operations in 2007, and has recently installed a new goshi coral bed in the lagoon next to the previously installed one. Goshi is an iron bar structure with the shape of a volcano, measuring 4m tall and 4m wide. Currently the Lab maintains five cement gardens and four iron bar structures (including the two goshis).

Monthly reef and lagoon clean-ups, supported by both Marine Labs, are scheduled to involve guests and associates in the delicate and important task of preserving the marine environment and keeping it free of any foreign debris brought in by the currents. In addition, regular talks and marine conservation presentations are held weekly to introduce guests in a lively and immediate manner to the origins and types of Indian Ocean corals and fishes.


Findings

On 24 March 2008, the research team from the Banyan Tree Maldives Marine Lab, Vabbinfaru led by Professor Peter Harrison from Southern Cross University, Australia, saw some spectacular coral spawning on the reefs around Banyan Tree Maldives Vabbinfaru and Angsana Ihuru Resorts. More than 30 colonies of nine different species of corals spawned between 8 and 11 pm including branching corals, brain corals, vase corals and massive corals.
"Coral spawning is critically important to the survival and recovery of coral reefs and will produce new coral larvae that will settle on the Banyan Tree reefs and allow the coral communities to remain healthy in the future" Professor Harrison said.


Professor Harrison
A patron to the Banyan Tree Maldives Marine Lab since early 2007, Prof Harrison is a leading marine scientist from at the Southern Cross University, Lismore, New South Wales, Australia. He was also one of the first discoverers of coral spawning at the Great Barrier Reef in Queensland. During his first visit to Banyan Tree Maldives Marine Lab, Vabbinfaru, in April 2007, Prof Harrison conducted coral spawning and reef monitoring research, which he intends to use in presenting scientific papers in upcoming international coral reef meetings. Furthermore, Prof Harrison is exploring new methods for effectively promoting coral regrowth and recovery from near catastrophic events.

ANGSANA MALDIVES IHURU WELCOMES CORAL SCIENTIST TO THE MALDIVES MARINE LAB.
The news of www.tuttomaldive.it from Maldives