! news from maldives islands : mobilization against climate change. live news from maldives islands maldives, maldive islands, climate change, maldives climate change, maldives climate, clima maldive, mobilization against climate change, mobilization climate change> <! the vice president says today's activities are extremely important to bring the co2 level down to 350ppm vice president dr mohamed waheed has said the activities that were taking place around the world as part of the "international day of climate action", initiated by 350.org, were extremely important to bring the atmospheric carbon dioxide concentration level down to 350 parts per million the aim of international day of climate action was to bring to the attention of world leaders who participate in the copenhagen summit that the level of carbon concentration in the atmosphere is at threatening levels 350 parts per million is the highest level of carbon concentration in the atmosphere to sustain the livelihood on the earth. the current level of carbon concentration in the atmosphere is estimated to be at 387 parts per million. the aim of this activity is to bring this level down to 350 parts per million speaking from underwater, while diving to participate in the underwater protest organised by the divers' association of maldives to take part in the global action, the vice president said, currently the atmospheric carbon dioxide concentration was too high> <! world community has to do whatever is necessary to bring down this level to 350", said the vice president in addition to diving underwater to participate in the underwater protest this afternoon, the vice president took part in the bicycle ride around malé along with the members of the cabinet. the bicycle ride of the cabinet around malé was organised by the divers' association of maldives and sunfront earlier, the vice president also attended a function held by the maldives water and sewerage company mwsc to promote the campaign. dr waheed inaugurated the activities organised by mwsc by printing his hand on a 350 logo banner, which was followed by hand printing on the banner by the management and the staff of the company. the hand print was a pledge of commitment to promote and enhance environment friendly practices by the company number of other activities are taking place in malé and other islands of the maldives to mark the international day of climate action> <! male nord, asdu, bandos, banyan, baros, boduhithi, eriyadu, farukolhufushi (club med), full moon, giravaru, helengeli, hudhuveli, ihuru, kanifinolhu, kudahithi, kuda huraa, kurumba, lohifushi, mahureva, makunudu, meeru, nakatchafushi, paradise island, reethi rah, summer island, taj coral reef, tari village, dhonveli, thulhagiri male sud, biyadhoo, bodu huraa, bolifushi, cocoa, dhigufinolhu, embudhu, fihaalhohi, fun island, kandooma, laguna, olhuveli, palm tree, rannalhi, rihiveli, taj, vaadhoo, villivaru, ari ari beach, angaga, athuruga, athala, dhidhoo finolhu, diffushi, ellaidhoo, fesdu, gangehi, halaveli, holiday, kuda rah, lily, maafushivaru, maayaafushi, machchafushi, madoogali, mirihi, moofushi, nika, rangali finolhu, ranveli, sun island, thudufushi, velidhu, vakarufalhi, vilamendhoo, felidhoo, alimatha, dhiggiri, baa, coco palm, kihaadhuffaru, kihaad, reethi, royal, soneva, raa, meedhupparu, rasdhoo, kuramathi, veligandu, lhaviyani, kanuhura, komandoo, kuredhoo, palm beach, nilandhoo, filitheyo, vilu reef, velavaru> <! nel mezzo dell'oceano indiano settentrionale, le maldive formano un arcipelago di 26 atolli per 1192 piccole e basse isole di natura corallina: alcune sono minuscole lingue di sabbia lunghe 300 metri, altre sono isolotti di anche 8 chilometri (non di più). si trovano a sud ovest della parte terminale della penisola indiana, a 680 chilometri a sud-ovest dello sri lanka e si sviluppano verticalmente per più di 800 chilometri all'altezza dell'equatore. le isole abitate sono circa 200 e di queste circa una novantina sono affittate dal governo delle maldive ai vari tour operator ed adibite a centri turistici ( resort o villaggi ) per i viaggi dei turisti. l'elevazione massima delle isole è di circa 2 metri sul livello del mare. lo spostamento dall'aeroporto alle varie isole delle maldive avviene in barca veloce o in idrovolante, mentre nei resort per le escursioni giornaliere presso le barriere coralline o presso le isole disabitate ( solitamente parchi marini protetti ), avvengono in dhoni ( tipica barca locale ). queste meravigliose isole tropicali, ricche di palme da cocco , mangrovie, banani e alberi del pane, sono lambite da un mare incantevole e ricchissimo: delfini, squali, murene, marlin, cernie, barracuda, pesci pagliaccio e anemoni, pesci palla, razze, mante, pesci balestra, chirurgo, napoleone, angelo e farfalla, pesci scorpione, trigoni, grugnitori, tartarughe, granchi enormi, crostacei e molto altro. l'attenta pianificazione del turismo ha portato ad indicare le isole maldive come modello di sviluppo turistico sostenibile e attento alle problematiche ambientali. nel 1998 el niño ha messo a dura prova l'ecosistema marino delle maldive causando lo sbiancamento dei coralli anche se da notizie certe e provate il fenomeno stà regredendo ed il corallo sta rifiorendo.in ogni resort l'ospite è trattato da re: sport, divertimenti, centri benessere, escursioni, crociere, windsurf, surf, vela, canoa, pesca anche d'altura, immersioni in mare aperto e presso relitti, corsi sub, snorkelling con maschera subacquea, boccaglio e pinne presso i reef dell'isola e cucina internazionale per dimenticare, in completo relax, le frenesie della vita moderna. meta molto ambita per i viaggi di nozze le isole maldive offrono spesso molte occasioni di risparmio per la sposa. nel sito si possono trovare tutte le informazioni utili per viaggiare alle maldive: documenti, visto, norme doganali, ambasciate e consolati, vaccinazioni, consigli medici, consigli per i bambini in viaggio, consigli per il turista indipendente, telefoni, clima , giornali locali sul web, libri e guide di viaggio, immagini dal satellite, materiale per immersioni, luoghi per immersioni e snorkeling o snorkelling. le maldive lo ricordiamo, sono attualmente una destinazione molto sicura anche dopo l'attentato alle torri gemelle dell' 11 settembre e continuano ad avere gli italiani come più affezionati frequentatori.> <! male nord, asdu, bandos, banyan, baros, boduhithi, eriyadu, farukolhufushi (club med), full moon, giravaru, helengeli, hudhuveli, ihuru, kanifinolhu, kudahithi, kuda huraa, kurumba, lohifushi, mahureva, makunudu, meeru, nakatchafushi, paradise island, reethi rah, summer island, taj coral reef, tari village, dhonveli, thulhagiri male sud, biyadhoo, bodu huraa, bolifushi, cocoa, dhigufinolhu, embudhu, fihaalhohi, fun island, kandooma, laguna, olhuveli, palm tree, rannalhi, rihiveli, taj, vaadhoo, villivaru, ari ari beach, angaga, athuruga, athala, dhidhoo finolhu, diffushi, ellaidhoo, fesdu, gangehi, halaveli, holiday, kuda rah, lily, maafushivaru, maayaafushi, machchafushi, madoogali, mirihi, moofushi, nika, rangali finolhu, ranveli, sun island, thudufushi, velidhu, vakarufalhi, vilamendhoo, felidhoo, alimatha, dhiggiri, baa, coco palm, kihaadhuffaru, kihaad, reethi, royal, soneva, raa, meedhupparu, rasdhoo, kuramathi, veligandu, lhaviyani, kanuhura, komandoo, kuredhoo, palm beach, nilandhoo, filitheyo, vilu reef, velavaru> <! nel mezzo dell'oceano indiano settentrionale, le maldive formano un arcipelago di 26 atolli per 1192 piccole e basse isole di natura corallina: alcune sono minuscole lingue di sabbia lunghe 300 metri, altre sono isolotti di anche 8 chilometri (non di più). si trovano a sud ovest della parte terminale della penisola indiana, a 680 chilometri a sud-ovest dello sri lanka e si sviluppano verticalmente per più di 800 chilometri all'altezza dell'equatore. le isole abitate sono circa 200 e di queste circa una novantina sono affittate dal governo delle maldive ai vari tour operator ed adibite a centri turistici ( resort o villaggi ) per i viaggi dei turisti. l'elevazione massima delle isole è di circa 2 metri sul livello del mare. lo spostamento dall'aeroporto alle varie isole delle maldive avviene in barca veloce o in idrovolante, mentre nei resort per le escursioni giornaliere presso le barriere coralline o presso le isole disabitate ( solitamente parchi marini protetti ), avvengono in dhoni ( tipica barca locale ). queste meravigliose isole tropicali, ricche di palme da cocco , mangrovie, banani e alberi del pane, sono lambite da un mare incantevole e ricchissimo: delfini, squali, murene, marlin, cernie, barracuda, pesci pagliaccio e anemoni, pesci palla, razze, mante, pesci balestra, chirurgo, napoleone, angelo e farfalla, pesci scorpione, trigoni, grugnitori, tartarughe, granchi enormi, crostacei e molto altro. l'attenta pianificazione del turismo ha portato ad indicare le isole maldive come modello di sviluppo turistico sostenibile e attento alle problematiche ambientali. nel 1998 el niño ha messo a dura prova l'ecosistema marino delle maldive causando lo sbiancamento dei coralli anche se da notizie certe e provate il fenomeno stà regredendo ed il corallo sta rifiorendo.in ogni resort l'ospite è trattato da re: sport, divertimenti, centri benessere, escursioni, crociere, windsurf, surf, vela, canoa, pesca anche d'altura, immersioni in mare aperto e presso relitti, corsi sub, snorkelling con maschera subacquea, boccaglio e pinne presso i reef dell'isola e cucina internazionale per dimenticare, in completo relax, le frenesie della vita moderna. meta molto ambita per i viaggi di nozze le isole maldive offrono spesso molte occasioni di risparmio per la sposa. nel sito si possono trovare tutte le informazioni utili per viaggiare alle maldive: documenti, visto, norme doganali, ambasciate e consolati, vaccinazioni, consigli medici, consigli per i bambini in viaggio, consigli per il turista indipendente, telefoni, clima , giornali locali sul web, libri e guide di viaggio, immagini dal satellite, materiale per immersioni, luoghi per immersioni e snorkeling o snorkelling. le maldive lo ricordiamo, sono attualmente una destinazione molto sicura anche dopo l'attentato alle torri gemelle dell' 11 settembre e continuano ad avere gli italiani come più affezionati frequentatori.>
The news of www.tuttomaldive.it
Maldives islands: Mobilization against climate change
Maldives islands Mobilization against climate change
The news of www.tuttomaldive.it by editorial of TuttoMaldive.it
The Vice President says today's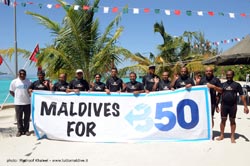 activities are extremely important to bring the CO2 level down to 350ppm

Vice President Dr Mohamed Waheed has said the activities that were taking place around the world as part of the "International Day of Climate Action", initiated by 350.org, were extremely important to bring the atmospheric carbon dioxide concentration level down to 350 parts per million.

The aim of International Day of Climate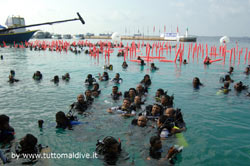 Action was to bring to the attention of world leaders who participate in the Copenhagen Summit that the level of carbon concentration in the atmosphere is at threatening levels.

350 parts per million is the highest level of carbon concentration in the atmosphere to sustain the livelihood on the earth. The current level of carbon concentration in the atmosphere is estimated to be at 387 parts per million. The aim of this activity is to bring this level down to 350 parts per million.

Speaking from underwater, while diving to participate in the underwater protest organised by the Divers' Association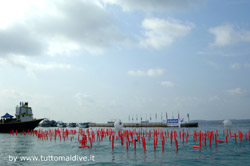 of Maldives to take part in the global action, the Vice President said, currently the atmospheric carbon dioxide concentration was too high.

"World community has to do whatever is necessary to bring down this level to 350", said the Vice President.

In addition to diving underwater to participate in the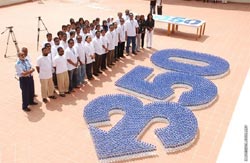 underwater protest this afternoon, the Vice President took part in the bicycle ride around Malé along with the members of the Cabinet. The bicycle ride of the Cabinet around Malé was organised by the Divers' Association of Maldives and Sunfront.

Earlier, the Vice President also attended a function held by the Maldives Water and Sewerage Company (MWSC) to promote the campaign. Dr Waheed inaugurated the activities organised by MWSC by printing his hand on a 350 logo banner, which was followed by hand printing on the banner by the management and the staff of the company. The hand print was a pledge of commitment to promote and enhance environment friendly practices by the Company.

Number of other activities are taking place in Malé and other islands of the Maldives to mark the "International Day of Climate Action".


Per discutere di questo argomento e per avere ulteriori informazioni
partecipa al forum del sito TuttoMaldive.it
troverai i consigli degli esperti e di chi conosce bene le Maldive:
partecipa al forum del sito TuttoMaldive.it
il sito dedicato alle isole maldive
Maldives islands Mobilization against climate change
The news of www.tuttomaldive.it by editorial of TuttoMaldive.it